Your professional source for curtain patterns, drapery patterns, valance patterns, window  treatment patterns, fabric racks, fabric adhesive tapes, and skirtex.

All photos, graphics, and text contained within these pages are copyrighted by Decorate Now or Channel Tech and Kenney Manufacturing.

All rights reserved. 

copyright  2000-2008. 


The Channel Tech Workroom Kit is the perfect solution for small workrooms. 

The system is mounted on the wall and can hold up to 3 bolts of fabric

and a top shelf.   Save valuable floor space in small workrooms by

hanging fabric bolts up out of the way on the wall.  Hang linings directly

over the end of work tables.  Also great for use in fabric stores.  

No more storing fabrics on end where they can wrinkle.   No more lifting heavy bolts of lining up and down off of racks for each new job.  Now you can leave linings hanging on the Channel Tech Workroom Kit wall-mounted fabric rack and just unroll the yardage as you need it.  

This workroom kit contains:

2 horizontal rails

2 vertical rails

3 pairs of rod brackets

1 pair shelf brackets (shelf not   

     included)

3 rods (68" long and approximately  

     13/16" diameter; includes end

     covers)

heavy duty wood screws

several small utility hooks. 

Weight Capacity of Unit:

each pair of brackets= up to 100 lbs

complete unit= up to 500 lbs.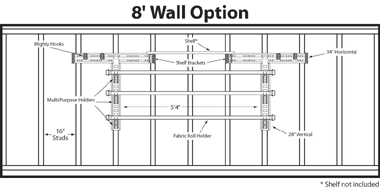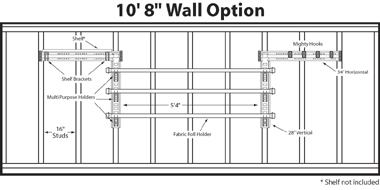 Hang scissors, tape measures, or other supplies from the hooks provided, ending clutter in the workroom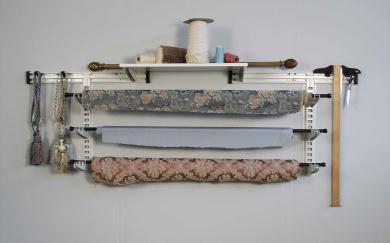 *  Appropriate masonry anchors should be purchased to install the Channel Tech Workroom Kit into masonry walls.   Please consult with a certified professional if needed.   Anchors contained in the kit are appropriate for 2"X4" wood studs only.  Not responsible for faulty installation.  Please contact manufacturer if any problems occur. 

**When system is installed correctly.

*** Special order items must be pre-paid, as they are made-to-order. 

Channel Tech Workroom Kit can be configured in many ways, making a customizable unit.

Brackets can be positioned at any height on the vertical supports. 

Brackets and rods can support large bolts of fabric.**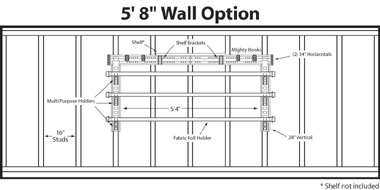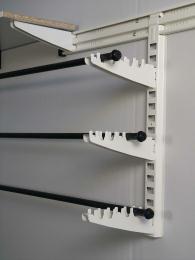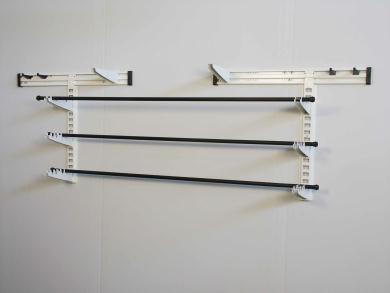 System components included:

Closeup of rod holder brackets.  

Top shelf not included.

Only $129 plus $25.99 S&H for each unit shipped to the continental United States.  (Sorry, we can not ship this item outside the continental US at this time.)  

This item is no longer available.

Approximate Dimensions:

Horizontal rail is 34" wide.

Vertical rail extends 25" below the horizontal rail..

Rod is 7.5" from the vertical rails and walls, when positioned in the outside slot, allowing plenty of room for larger fabric bolts.

Unit will extend approximately 11" out from the wall when installed.

System shown as it might be used in a workroom. 

Fabrics and supplies not included.

Shelf not included.